The Mobile Seance
Genre:
multimedia performance
|
Year of creation:
2007
|
City/Country:
Kassel / Germany
|
Location:
Kassel, Cologne, Chemnitz / Germany, Moscow / Russia, Kyiv / Ukraine, Madrid / Spain, Lyon / France
|
Equipment:
headset, horn speaker, audio amplifier, sound mixer, portable TV-receiver DVBT-TV, modified remote control, Arduino
|
Hardware:
modified wheelchair, car battery
|
Duration:
2 years
|
The spiritualist medium is riding a modified wheelchair offering a three minutes "mobile séance" for 1 euro. A slim mobile TV screen is fixed on his chest and coin chute between his legs. As far as 1 euro is being put into the coin slot the introduction instruction manual appears on the screen, offering people to use a TV remote control for choosing any TV channel. Medium is transmitting sounds to the audience he is receiving from TV set into his headphones. As far as three minutes are over the machine is asking to put another coin.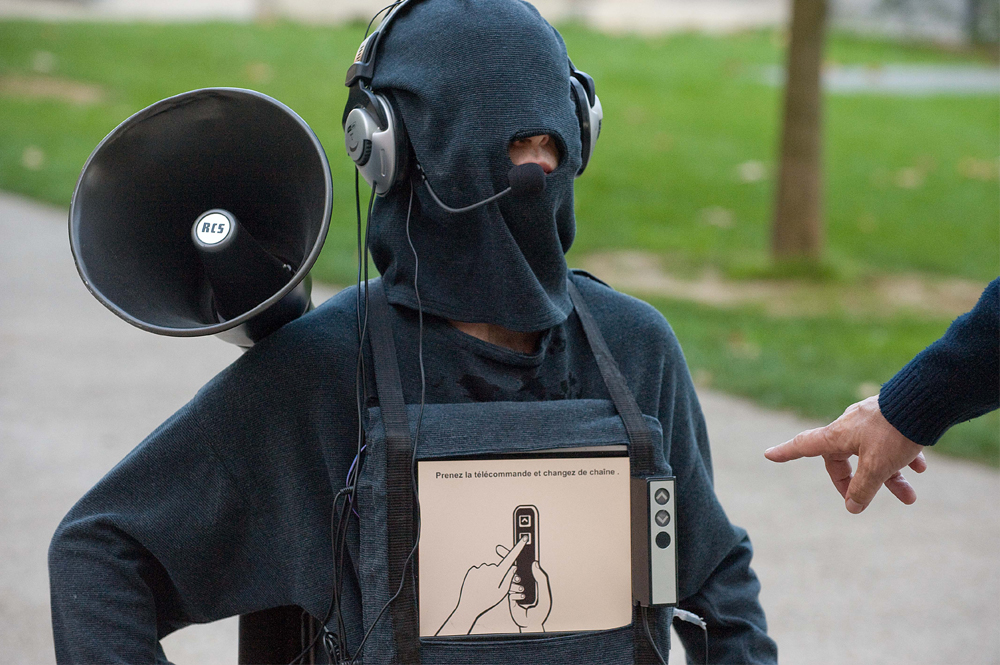 Performance:
Andrey Ustinov
|
Metalwork:
Darius Vöhringer
|
Electrical installation:
Olaf Val
|
Camera:
Darius Vöhringer, Natalia Nikolaeva, Oleg Beloglazov
|
Video editing:
Andrey Ustinov
|
Coding:
Olaf Val
|
Production:
School of Arts and Design of Kassel
|