The Magic Lamp
Genre:
multimedia installation
|
Exhibiting institution:
KHM, Academy of Media Arts Cologne
|
Year of creation:
2008
|
City/Country:
Cologne / Germany
|
Material:
office table, office chair, user guide, porn videos
|
Equipment:
modified reading lamp, mini projector, laptop, internet connection
|
Dimension:
180 x 90 x 120 cm
|
Weight:
14 kg
|
In the center of the room there is a desk. On the table stand a laptop and a desk lamp. The laptop seems unfolded backwards: half ajar, with rear side directed to the workplace. In this situation, the laptop is useless as a computer, but it will do as a handy book stand. So it is: a users manual for the laptop lies on the display with its cover open for reading. Instead of a light bulb, a small video projector is inserted in the lamp bowl. The projector is connected to the laptop. The laptop – to the Internet. The table lamp projects color porn videos from the Internet upon the black-and-white pages of the users manual.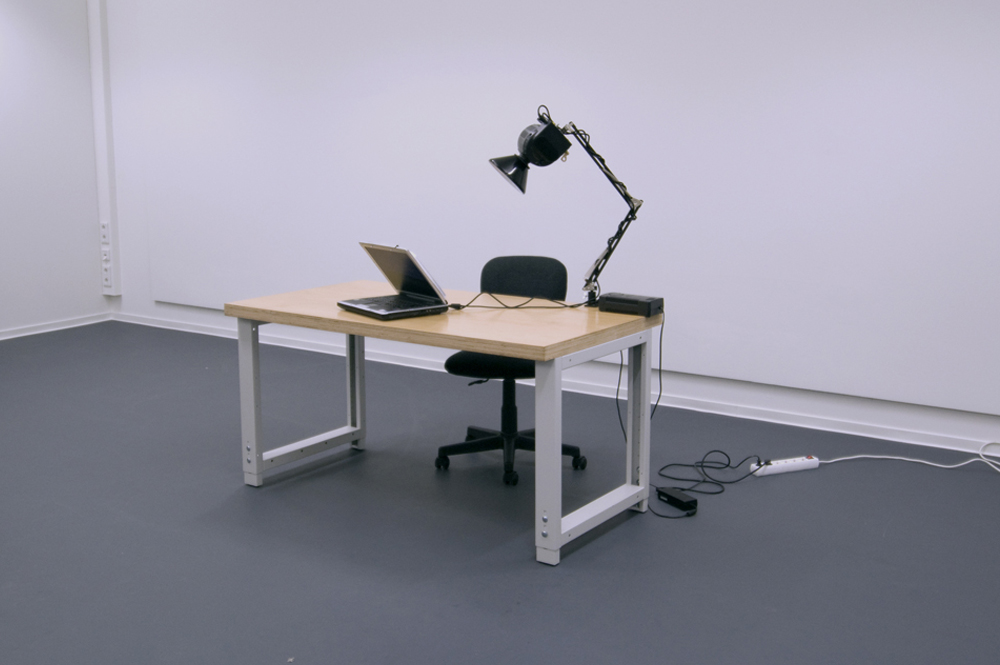 Metalwork:
Heinz Nink
|
Photography:
Sebastian Fritzsch
|
Camera:
Andrey Ustinov
|
Video editing:
Andrey Ustinov
|
Advising:
Julia Scher
|
Production:
KHM, Academy of Media Arts Cologne
|