Film Noir
Genre:
multimedia installation in public space
|
Exhibiting institution:
17th WRO Media Art Biennial
|
Year of creation:
2017
|
City/Country:
Wroclaw / Poland
|
Location:
an abandoned wooded area in an industrial district
|
Material:
40 plastic chairs, metal board, 90L petrol
|
Duration:
24 hours
|
Equipment:
power generator + high-mast lighting, four loudspeakers + two subwoofers, sound amplifier & mixer, microphone on tripod, three LED spotlights, 100m cable
|
I installed an ostensible open-air cinema in the midst of a suburban wooded no-man's land on outskirts of an industrial area of the city of Wroclaw / Poland. I set up 40 seats in the direction of a large aluminum board appeared black from the front side because it was backlit by six LED floodlights.
The board was attached to a lighting mast, which was a component of a portable power generator. The generator powered six LED floodlights behind the aluminum board, a sound system (microphone, mixing console, amplifier, four speakers as well as two subwoofers), an illuminated signpost and three LED lights guiding the audience to the installation site. The microphone was placed in front of the generator, amplifying the machine noises through the amplifier and transmitting them through loudspeakers randomly dispersed in the woods. To make the situation theater-like, I set up six rows of 40 plastic chairs in front of the aluminum surface. The installation was placed near the isolated tram/bus station "Aleja Armii Krajowej" between two country roads (Ulica Krakowska and Aleja Armii Krajowej) and a wide set of railway tracks. The performance began at twilight and continued all night until the generator ran out of juice. Nightfall's increasing darkness gradually highlighted the deep blackness of the aluminum screen in the backlight.
The audience was directed from the tram station by a lighted signpost reading "FILM NOIR" and then accompanied along a path into the woods by 3 LED flood lights, leading to the "theatre". The WRO Media Art Biennale'17 program advertised the project simply as "Film Noir: a performative installation". No one knew what to expect. Based on the title, some surely anticipated a film screening. The microphone and rows of seats may have alluded to a stage production. Most people hung around until midnight, frustration mounting as they waited for an event that never happened.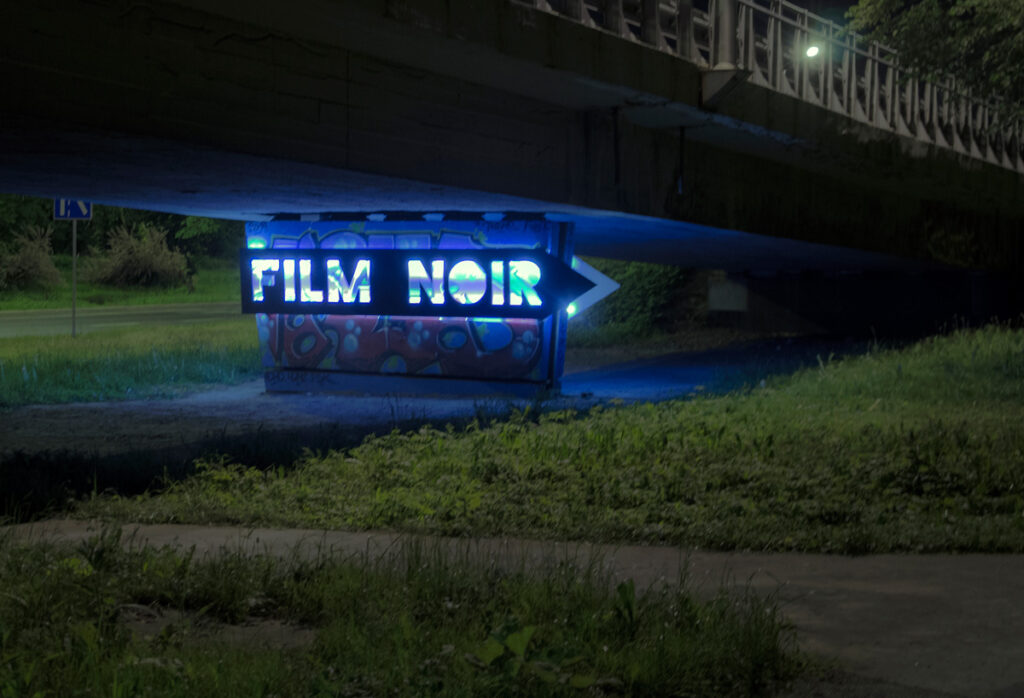 Curating:
Agnieszka Kubicka-Dzieduszycka
|
Photography:
Andrey Ustinov, Natalia Kabanow, Marcin Maziej, Mirek Koch, Wojtek Chrubasik
|
Production:
WRO Art Center
|
Special thanks to:
Kamil Kawalec, Michal Michalczak, Kamila Elżbieta
|