cut-up.city
Participants:
2 students (architecture and art), both female, age-range 25 – 30.
|
Duration:
2 days
|
Language:
German, English, Russian
|
Equipment:
laptop, camera, smartphone with mobile internet, box cutter, backpack, bicycle;
|
Requirements:
Participants had to register with the festival project coordinators. They needed to be 18+ and willing to accept liability for their illegal actions during the workshop.
|
INTRODUCTION

The workshop "Naked City" was developed as a side project during the CityLeaks Festival where I exhibited my adbusting project "Iconoclash". The workshop was about the critical issue of commercial postering in Cologne's Ehrenfeld neighbourhood along the lines of Guy Debord's "Naked City". During the workshop, we looked at the Cologne city map (similar to Debord's Paris city map) as an advertising poster and, instead of re-doing Debord's collage, we created a political poster from scavenged fragments of advertising posters.
 
The workshop consisted of a theoretical and a practical part. The theoretical part examined such conceptual linkages as: artist – passer-by, guiding – misleading, advertising – adbusting. I gave a short overview of art practices, artists and theorists, as well as of my own work, in which I elevate the status of the term "passer-by" from flâneur to artist. The practical part was a collective intervention, where we pieced together a political poster out of advertising poster fragments we collected ourselves, both physically as an illegal activity in the urban space as well as digitally on a specially-designed website.
 
The aim of the workshop was to link Debord's dérive with Kalle Lasn's adbusting and to come up with some examples of new artistic strategies.
WORKSHOP PROGRAM
 
 
Day one, August 24, 2019 / 11AM-2PM
 
Day one began with an art history introduction to the workshop title "Naked City". Then I gave a short retrospective summary from Situationist International on to Décollage, then to Adbusters and finally Santiago Sierra. We covered: (artists) Weegee, Brion Gysin, Situationist International, Asger Jorn, Guy Debord, Raymond Hains, Jacques de la Villeglé, Santiago Sierra, (books) Karen O'Rourke "Walking and Mapping: Artists as Cartographers", Guy Debord "The Society of the Spectacle", Guy Debord "Theory of Derive", Naomi Klein "No Logo", Kalle Lasn "Culture Jamming. The Manifesto of Anti-advertising", (films) Jules Dassin "Naked City".
 
To conclude the theoretical part, I presented four of my own projects (The Luminous Box, Open Power, Film Noir, Iconoclash), which were relevant to the themes covered in our workshop.
 
By the end of the day, we were busy preparing for the intervention on the next day. I presented a website that I had designed together with a colleague, which would be a digital tool for our intervention. The website (under the working title recut.city) displayed a Google map of the Ehrenfeld neighbourhood. A billboard-icon in the middle marked the geo-position where our poster collage would be. The location was a broad concrete wall at the intersection of Liebig and Subbelrather street, at a railway underpass. The wall was regularly used as a rental space for small-format advertising posters. Our poster would be placed illegally at this location on the next morning.
 
The participants spent the rest of their evening picking out advertising posters in the Ehrenfeld area which personally affronted them in terms of content. Their task was to tear a piece off the posters. They photo-documented the vandalised posters and recorded GPS coordinates for our Google map. All accumulated fragments were to become part of the political poster planned for the next day.
 
The basic idea behind Debord's "Naked City" is an invitation to critically evaluate linear, authoritarian urbanism. Debord cut a regular Parisian city map into small pieces and created a non-linear city map by putting the snippets back together in random order. The new map created a completely different concept of movement through the city with alternative routes, connections and, most importantly, a new perspective on urban space in general. His non-linear map embodied the idea of dérive. Dérive means allowing oneself to drift aimlessly through the urban landscape rather than following a pre-planned route to a set destination. This involves avoiding the main roads, orienting oneself towards distinctive features and tourist attractions, yet moving where one has never been before, not being afraid of getting lost or wasting time. The title "Naked City" was borrowed from Weegee (Arthur Fellig), US-American photojournalist. In his photobook, he showed New York's social hotspots in the 1930s and 40s. By "Naked City" he meant "exposed, revealed, unmasked city".
 
Kalle Lasn, Canadian filmmaker and political activist, founder of Adbusters magazine, likes to quote Guy Debord in his manifesto "Culture Jamming". His critical focus shifts between themes of urbanism and architecture and themes of "commercialization of urban space through advertising and loss of public spaces". He points out that the entire contemporary urban landscape has been degraded to a huge advertising surface by total commercial billposting of human living space and calls for radical protest. By adbusting he means a strategy of misappropriation, where advertising content is transformed in such a way that it ultimately becomes its own opposite, anti-advertising. In this way, former advertisement becomes a political poster, which should lead to the reappropriation of public spaces.
 
The workshop was an effort to revive both Debord and Lasn's discourses within the local context of Cologne's Ehrenfeld neighbourhood. It was not difficult: the advertising on Ehrenfeld's streets is in fact so aggressive that one can easily talk about blanket billposting of the entire city landscape.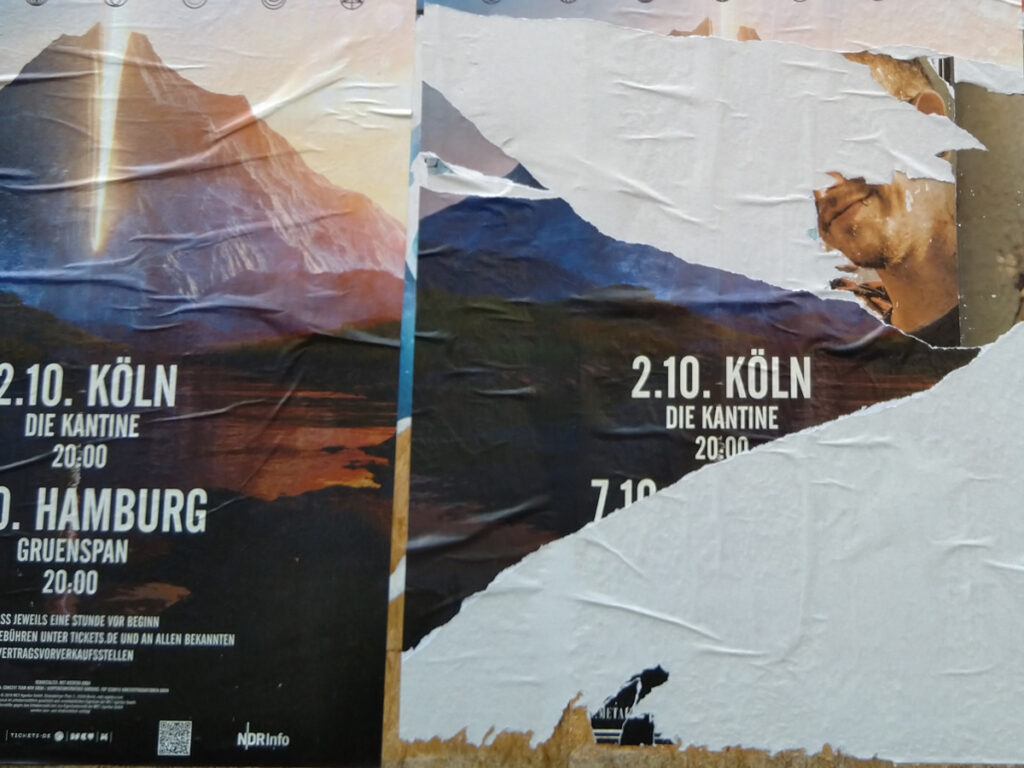 Day two, August 25, 2019, 11AM-6PM

Participants brought the poster snippets they had torn down the previous evening to the workshop the next morning. We started the day by assigning each fragment a QR code. The QR codes link each of the snippets to a corresponding page on recut.city. These pages were created by the participants themselves by uploading their photos and writing accompanying descriptions for each particular fragment. In total we had 17 fragments, which meant 17 QR codes, 17 web pages, 17 photos and 17 write-ups. The write-ups were very unique! We had short emotional exclamations, poems and little essays, all in four different languages: German, Russian, English and Spanish. Each new entry on the map was marked with a box cutter icon.
As soon as the content was online, we could finally start working on our political poster. First, we assembled the collage on the floor to see how it looked, then we brought the pieces to the wall and pasted them there. Next, each fragment was outfitted with its own QR code. Finally, we uploaded a photo of the finished poster to the website. Although the poster seemed abstract, but it was actually very concrete: through the QR-codes, each fragment of the collage pointed to a corresponding personal statement from the participants and so the poster was highly purposeful.

While Debord took the Paris city map under the scissors, the workshop participants cut along and across the entire Ehrenfeld advertising landscape. They collaged the snippets of destroyed advertising posters just as freely as Debord randomly collaged the snippets of the Paris city map. While Debord thereby created a graphic dérive manifesto, the workshop participants produced an anti-advertising poster. While Debord's "Naked City" map created a walking route, our "Naked City" poster created ad-tracking.

Similar to the Iconoclash project, we transformed a commercial poster into a political poster, rejecting the commercialisation of the visual domain.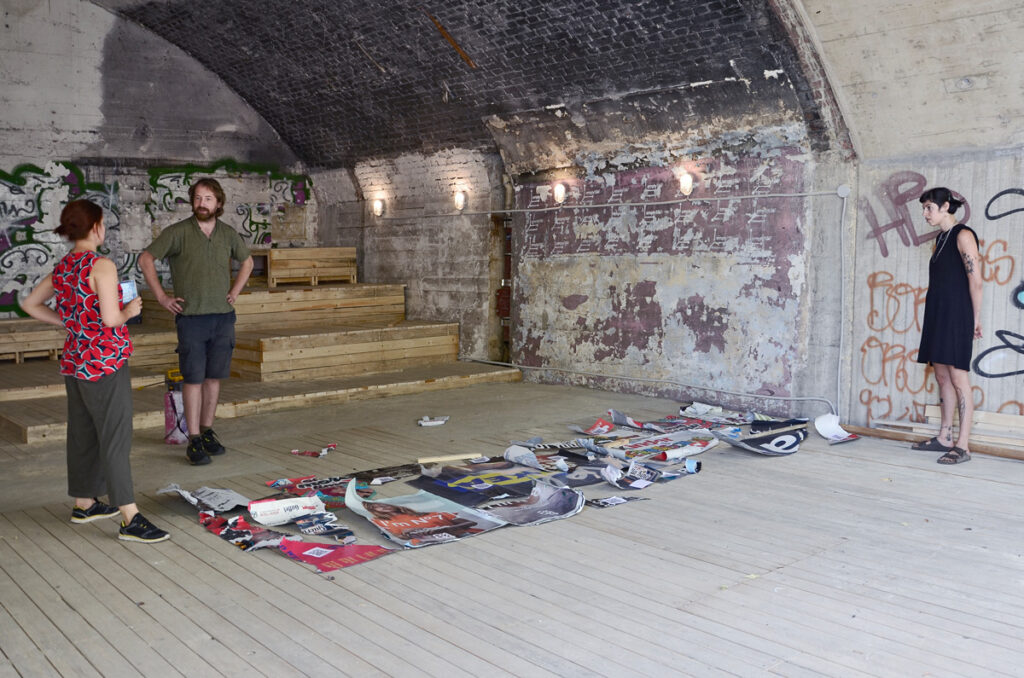 The poster was removed by unknown people the next day, August 26, 2019. Although the poster could only be seen live for a day, its digital image "hangs" online for an eternity. The website also remains online as a digital tool for public commentary on urban advertising. This tool may continue to be used worldwide.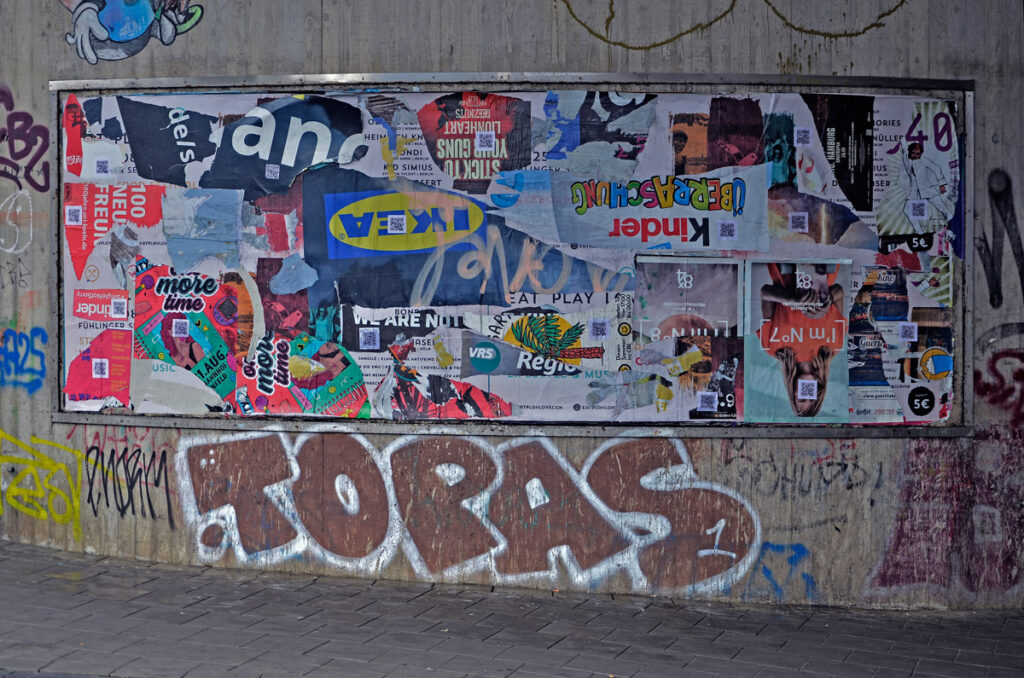 Camera:
Andrey Ustinov
|
Web Development:
Yuri Popov
|
Production:
CityLeaks Festival
|
Special thanks to:
Georg Barringhaus, Olga Funk
|