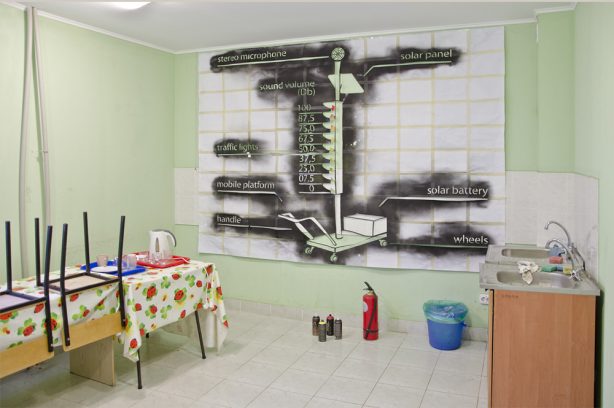 material / technical equipment: nine traffic lights, a traffic light pole, a sound level meter, a photovoltaic kit (solar panel, solar battery, charge controller), a platform cart
dimensions: 300 x 150 x 100 cm

The NOISE METER is an instrument which visually measures the noise pollution in public places. The noise meter looks like a traffic light: its lights are shades of green, orange and red situated one above the other. Instead of the three lights (green, yellow, red) typical to a conventional traffic light, the NOISE METER has nine lights. They develop along the spectrum from green to red with six additional colors. This color spectrum reflects the existing noise levels. The nine shades from green to red assess the prevailing sound level: green for the lowest level (0 db) and red for the highest level (100 db). 0 db represents a value that is actually imperceptible to the human ear. 100 db and higher is harmful to humans.
The NOISE METER is mobile and self-sufficient. The energy is stored by means of a solar panel and a battery. The whole construction is installed on a mobile platform. The platform is equipped with four wheels and a handle, so the NOISE METER can easily be moved on a level road. The sculpture will be placed in various public places, both in urban (streets, parking lots, courtyards, squares) and in rural areas (fields, forests, meadows, mountains).

Follow @noisemeter on Twitter.


* * *

If you want to support this project, please transfer any amount on the bank account specified below. For bank tranfers please put the title of the project ("Noise Meter") plus "project support" in the memo line:


I thank you for support!
drawings, electro-sculpture, participatory project, projects on paper, site specific project