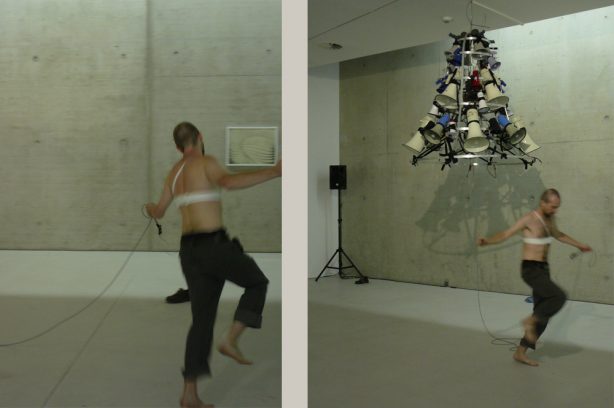 Location: KIT-Galerie Dusseldorf / Germany
Material: modified stethoscope, microphone capsule, speakers, sound amplifier, sound mixer
Duration: 60:00 min.

I will modify a common medical stethoscope: I will insert a microphone capsule into the inner cavity of the stethoscope, in close proximity to the diaphragm membrane, in order to transmit the sound of my heartbeat through the sound system. I will run a cable from the microphone inside the stethoscope and connect it to the sound system. The deep tones of my heartbeat will be exaggerated through an amplifier. The stethoscope will then be fixed to my chest near my heart. Once the microphone is plugged in, the 40 megaphones will start pounding the excited rhythm of my heartbeat.

My heart beats the bell!

I pick up the rhythm of my heart and try to dance under it. The faster I move in the dance, the faster the heart beats its rhythm. The faster my heart is beating, the faster I must dance. We listen to each other. We accelerate each other. We are driving each other to the limits of the possible.

Exhausted, I fall under the bell. The heart rate gradually subsides. With it, the bells bout calms down as well.

The dance is over.





Sound, Installation: Martin Nawrath, Michael Buchholz
Camera: Oleg Yushko, Rikisaburo Sato
Movie: Andrey Ustinov
Production: Academy of Media Arts Cologne, KIT-Galerie Dusseldorf / Germany