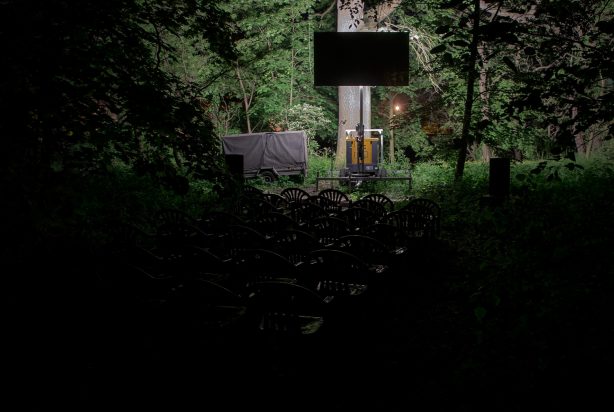 location: an abandoned wooded area, Wroclaw / Poland
material: a high-mast mobile lighting tower with a power generator, 90L petrol, metal board, 40 plastic chairs, four speakers + two subwoofers, sound amplifier & mixer, microphone on tripod, three LED-flood lights, 100m wiring

In a small wooded area hidden in the industrial outskirts of the city, a wasteland between two highways (Ulica Krakowska and Aleja Armii Krajowej) and a railway, I set up a makeshift amphitheater. Facing the spectators, I parked a mobile lighting tower with a power generator. Covering the entire headlight surface was a large metal board. I installed a microphone over the generator and four speakers randomly throughout the woods. As soon as night fell, the generator turned on. The spectators saw a black screen in a halo of light and heard the loud buzzing of the power generator. After 16 hours of non-stop light and noise, the generator ran out of juice.

To direct the audience to the amphitheater through the darkness of the wasteland, I installed three LED-lights along the path into the woods and a lighted sign "FILM NOIR" under the viaduct at the bus stop.
The project was simply advertised as "Film Noir: a performative installation". No one knew what to expect. Based on the title, some anticipated a film screening. The microphone and rows of seats may have alluded to a stage production. Most people hung around until midnight, frustration mounting as they waited for an event that never happend.

The project was implemented at the WRO Media Art Biennale'17.


Photos: Andrey Ustinov
Production: WRO Art Center, Wroclaw / Poland
Special thanks to: Agnieszka Kubicka-Dzieduszycka, Kamil Kawalec, Michal Michalczak, Kamila Elżbieta


psychogeography, dérive, electrical sculpture, light sculpture, participatory project, site specific project, sound sculpture